APPLY FOR FINANCE TODAY
We offer excellent rates of finance on all our stock. Just find the car you like and get a finance package that's perfect for your situation.
TRADE-IN OR SELL YOUR OLD CAR
We offer excellent rates on your old car. Just fill in the form and send us a few pics. We'll get back to you with a free, no-obligation evalutaion.
We are a multi-franchise, Boutique car dealership, providing new and hand-picked used cars to discerning customers.
We also provide a high quality car valet and a value for money car service, to original manufacturer's standards. Graham is on site every day to personally ensure that our dependable customer service is maintained. A brief view of our range is available on our web site or can be viewed at our premises in Harolds Cross, Dublin 6w.
With our friendly workshop, we pride ourselves on delivering a reliable and trustworthy service, with a perfect balance between cost and quality.
We are ideally located for motorists in the Dublin 6, Terenure, Rathmines and Rathgar areas, where we have been trading for over 10 years.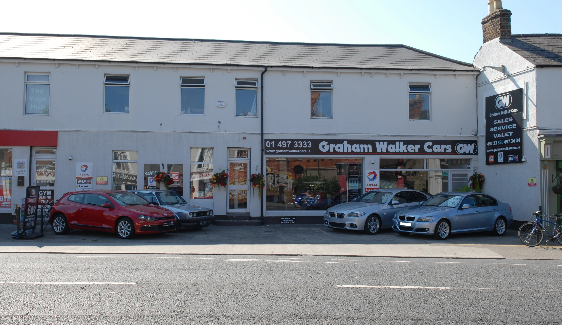 Customer reviews
Rafal Janicki says
Dundrum, Dublin 14
Every time I collect my car from Graham - it drives, looks and smells like a brand new one despite being 14 years old :) No matter if it's a mechanical service, valet service, broken part replacement - it's always done on time and I've never had any issues whatsoever. Graham is extremely nice and helpful on every stage and takes a lot of care of his clients and their cars. Hands on the best car service I have ever visited with any of my cars.
Brian Doyle says
Ireland
Sold our car to Graham, quick and easy process, would highly recommend
Joanna Gillan says
Kildare
Absolutely delighted with the sale of my car to Graham Walker. Such an easy and pain-free process, and very happy with the price given for my car. Graham went out of his way to make it a straight forward and honest sale.
Jared says
Dublin
Just picked up our keys this afternoon from Graham and the car drove like a dream, was very clean and well presented. Excellent communication throughout the purchasing process and a very comprehensive handover, very much appreciated. Will be recommending Graham to friends and family alike.
Stuart says
Rathmines, Dublin 6
Delighted with my Tesla purchase. Graham is like a TESLA guru, answered all my questions with ease. I was made feel so confident making my big switch over to EV. Cars are presented better than Tesla themselves in Sandyford and Graham spent so much time going through the controls, tech & gadgets. Its a breath of fresh air to deal with a team so passionate about what they do, I'll 100% buy off Graham Walker Cars again.
pay us a visit
opening hours
Wednesday:

08:15 to 17:15
Out of hours by arrangement