APPLY FOR FINANCE TODAY
We offer excellent rates of finance on all our stock. Just find the car you like and get a finance package that's perfect for your situation.
TRADE-IN OR SELL YOUR OLD CAR
We offer excellent rates on your old car. Just fill in the form and send us a few pics. We'll get back to you with a free, no-obligation evalutaion.
We are Tesla and EV specialists providing almost new and hand-picked used cars to discerning customers.
Graham is on site every day to personally ensure that our dependable customer service is maintained. A brief view of our range is available on our web site or can be viewed at our premises in Harolds Cross, Dublin 6w.
With our friendly workshop, we pride ourselves on delivering a reliable and trustworthy service, with a perfect balance between cost and quality.
We are ideally located for motorists in the Dublin 6, Terenure, Rathmines and Rathgar areas, where we have been trading for over 10 years.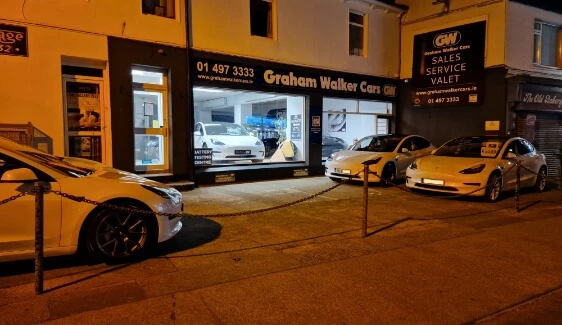 Customer reviews
Wesley Hampton says
Tipperary
Recently sold my Tesla MY 231 to Graham. Change in circumstances forced me away from Electric. Graham was really great to deal with. Made me an offer fair to both. Explained the process of handing over Tesla. We had different banks but money was with me by the end of the day. Process was so easy and felt very secure. Can't recommend him enough. Thanks Graham.
Sylvester Burke says
Wicklow
I was going to sell my 2022 Model 3 privately on Carzone where I noticed that Graham Walker was the biggest seller in Ireland for nearly new Tesla's. So I contacted Graham Walker Cars and agreed a time /day for Graham to inspect the Model 3. I was so impressed by his knowledge and professionalism and of course his final offer price that there and then we done the deal. Graham transferred funds directly to my bank account and I handed over the signed log book. In all the transaction took approximately 30 minutes. I'm retired after running my own business for over 40 years and I can honestly say that Graham is a fantastic business person.
Lavinia Munteanu says
Dublin
Recently bought a Tesla from Graham Walker.He is amazing and makes the process really smooth. He goes above and beyond for his customers and tries to help as much as possible. Great service!!
Andrew Tisdall says
Malahide
Absolutely seamless and straightforward transaction, Graham could not have been more helpful or friendly!
Lauren McDonnell says
Dublin 4
Recently bought a Tesla from Graham Walker, he was so pleasant and helpful to deal with. He made the process so seamless and easy from start to finish - nothing was an issue! The car was presented spotless upon collection and everything was in order. I will definitely be back and would highly recommend Graham Walker Cars to anyone looking to buy or trade their car.
pay us a visit
opening hours
Wednesday:

08:15 to 17:15
Out of hours by arrangement