APPLY FOR FINANCE TODAY
We offer excellent rates of finance on all our stock. Just find the car you like and get a finance package that's perfect for your situation.
TRADE-IN OR SELL YOUR OLD CAR
We offer excellent rates on your old car. Just fill in the form and send us a few pics. We'll get back to you with a free, no-obligation evalutaion.
We are a multi-franchise, Boutique car dealership, providing new and hand-picked used cars to discerning customers.
We also provide a high quality car valet and a value for money car service, to original manufacturer's standards. Graham is on site every day to personally ensure that our dependable customer service is maintained. A brief view of our range is available on our web site or can be viewed at our premises in Harolds Cross, Dublin 6w.
With our friendly workshop, we pride ourselves on delivering a reliable and trustworthy service, with a perfect balance between cost and quality.
We are ideally located for motorists in the Dublin 6, Terenure, Rathmines and Rathgar areas, where we have been trading for over 10 years.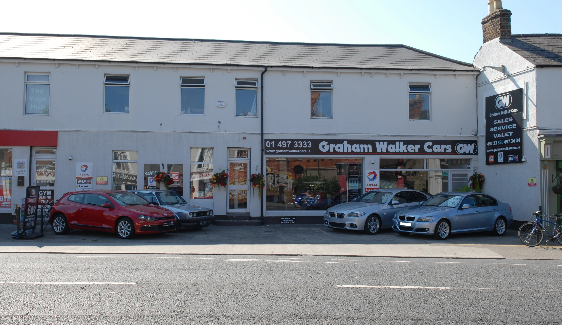 Customer reviews
Tristan Cooper says
Ranelagh
After an unusually hot/dry May my on-street parked car had gathered a thick film of tree sap and dirt. Not a hope of getting it off in a car wash so decided to get the mini valet with GWC. The car came back absolutely spotless, inside and out. Definitely the most thorough car valet I've had done yet and my car has never been more dirty beforehand! Was turned around quicker than I hoped too. Would definitely recommend.
Denny Power says
Navan
Brilliant guy to deal with , no messing , car is as advertised absolutely faultless , i would recommend Graham and his father to anyone , Thanks Graham it was a pleasure dealing with you
Ryan O says
Dublin
From my first contact with Graham, he's made the whole experience of buying a car seamless and simple for me as the customer. He always made the effort to stay in contact during the entire buying process, understood what car and spec I wanted, and was very responsive to my queries. All done and dusted within a couple of weeks and I'm sure I'll be back in the future. Highly recommended!
Marga Knm says
Harold's Cross, Dublin 6w
Can't recommend this place enough! Always great service and good job done! My car looks like brand new! Highly recommend this guys!
Andy N says
Foxrock, Dublin 18
I have lost count of the amount of cars i have bought off Graham, I think over 11. At first Esmonde Motors (over 10 years ago) and now myself and my full extended family have all followed to support his own Business Graham Walker Cars. From new to used, cars and vans we have bought everything off Graham, he always gets us well minded high spec cars and vans and so easy to deal with. Advice is always honest and not just what he has in stock. We will continue to use Graham Walker Cars - Sales, Service and Valet service and very happy indeed. Thank you!
pay us a visit
opening hours
Wednesday:

08:15 to 17:15
Out of hours by arrangement