APPLY FOR FINANCE TODAY
We offer excellent rates of finance on all our stock. Just find the car you like and get a finance package that's perfect for your situation.
TRADE-IN OR SELL YOUR OLD CAR
We offer excellent rates on your old car. Just fill in the form and send us a few pics. We'll get back to you with a free, no-obligation evalutaion.
We are a multi-franchise, Boutique car dealership, providing new and hand-picked used cars to discerning customers.
We also provide a high quality car valet and a value for money car service, to original manufacturer's standards. Graham is on site every day to personally ensure that our dependable customer service is maintained. A brief view of our range is available on our web site or can be viewed at our premises in Harolds Cross, Dublin 6w.
With our friendly workshop, we pride ourselves on delivering a reliable and trustworthy service, with a perfect balance between cost and quality.
We are ideally located for motorists in the Dublin 6, Terenure, Rathmines and Rathgar areas, where we have been trading for over 10 years.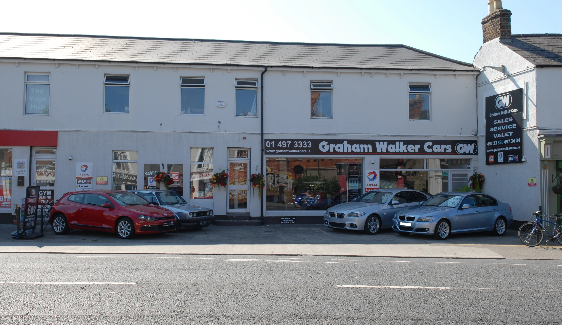 Customer reviews
Eamonn Norris says
Blackrock, Co. Dublin.
Graham is great to deal with. Full service completed to total satisfaction with free mini valet. In my previous dealings the thing you appreciate most is if there is a problem Graham will sort it out. I would highly recommended any dealings Graham Walker Cars.
Paul says
Cork
I bought a VW for a Christmas present for my wife this Christmas and needed it to be a surprise. Graham was fantastic throughout and also Graham Snr, who met me halfway in Urlingford to deliver it to me. Graham and I were in constant contact via whatsapp over the 3 weeks. My wife was delighted. I could not have been happier with the service I received from Graham.
Mark Dromgoole says
Dublin
I sold my car to Graham. Excellent and very professional team. Highly recommend
Declan Travers says
Dublin
I am delighted to leave this review for Graham from Graham Walker Cars. He is as honest and reliable as you are likely to come across. The car sale was extremely straight forward and I would highly reccomend.
Michaela Niland says
Galway
Bought a fantastic little dream car from Graham in the most unusual situation for buying cars this year. Everything in his power was done to make the purchase as seamless as possible from extra pictures to a video walk through and constant updates on the process after purchase. 100% recommendation to anyone looking to buy a great car from a genuine car enthusiast!
pay us a visit
opening hours
Wednesday:

08:15 to 17:15
Out of hours by arrangement