APPLY FOR FINANCE TODAY
We offer excellent rates of finance on all our stock. Just find the car you like and get a finance package that's perfect for your situation.
TRADE-IN OR SELL YOUR OLD CAR
We offer excellent rates on your old car. Just fill in the form and send us a few pics. We'll get back to you with a free, no-obligation evalutaion.
We are a multi-franchise, Boutique car dealership, providing new and hand-picked used cars to discerning customers.
We also provide a high quality car valet and a value for money car service, to original manufacturer's standards. Graham is on site every day to personally ensure that our dependable customer service is maintained. A brief view of our range is available on our web site or can be viewed at our premises in Harolds Cross, Dublin 6w.
With our friendly workshop, we pride ourselves on delivering a reliable and trustworthy service, with a perfect balance between cost and quality.
We are ideally located for motorists in the Dublin 6, Terenure, Rathmines and Rathgar areas, where we have been trading for over 10 years.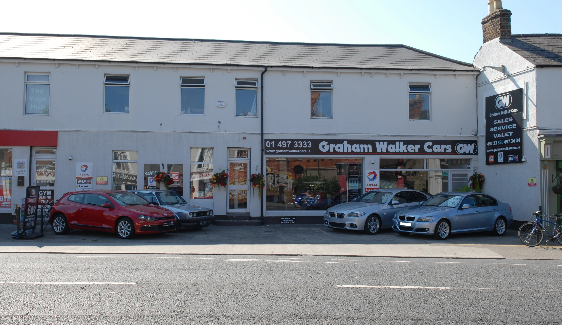 Customer reviews
Jerin Sara Rajan says
Dublin
As first time car buyers in Ireland, we didn't have a clue about the whole process, but we were so lucky to meet Graham. From the very first visit itself, he took time in explaining the details about the car, that we were looking. He was so professional and friendly at the same time, explained each step in detail. Also, very patient enough to clear all our doubts. He did exactly as promised, excellent and efficient service. Graham took an extra step to accompany my husband with the test drive and boost his confidence level. We highly recommend Graham Walker cars to those who are looking to buy good quality cars.
Diarmuid Halpin says
Dublin
Graham Walker Cars get a 5* rating from me. They are ever helpful and ever friendly. There is a community spirit about the garage. Whether it be servicing, or panel beating, or electrical or changing tyres Graham is on hand to give advice or failing that his Dad (Graham senior ) readily steps into the breach. GWC are competitive and efficient. They are my first port of call with any kind of motoring dilemma. These days Graham looks after four family cars for us.
Joe Cullen says
Co. Donegal
I decided to write a review of Graham Walker Cars because of the high level of courtesy and service shown during a recent visit to their showroom in Harold's Cross. We arrived much earlier than our scheduled appointment and Graham willingly facilitated us. We were delighted with the presentation and the attention to detail of the vehicle we were hoping to purchase. Clearly, this man takes great pride in what he sells and I would be happy to recommend him if you are in the fortunate position of planning to buy a new or used car in the future. Well done Graham, this was a very positive experience involving a quite important decision making time for us.
Fred Derradji says
Dublin 15
I sold my car to Graham's. Today! It was a great experience! Very efficient! Very friendly and a pleasure to do business with! Would highly recommend to anyone looking to buying or selling a car
Alessandro says
Dublin
I was delighted to deal with Graham. He was friendly and professional in all the helps I needed. He's passion in details make your experience unique and pleasurable.
pay us a visit
opening hours
Wednesday:

08:15 to 17:15
Out of hours by arrangement