APPLY FOR FINANCE TODAY
We offer excellent rates of finance on all our stock. Just find the car you like and get a finance package that's perfect for your situation.
TRADE-IN OR SELL YOUR OLD CAR
We offer excellent rates on your old car. Just fill in the form and send us a few pics. We'll get back to you with a free, no-obligation evalutaion.
We are a multi-franchise, Boutique car dealership, providing new and hand-picked used cars to discerning customers.
We also provide a high quality car valet and a value for money car service, to original manufacturer's standards. Graham is on site every day to personally ensure that our dependable customer service is maintained. A brief view of our range is available on our web site or can be viewed at our premises in Harolds Cross, Dublin 6w.
With our friendly workshop, we pride ourselves on delivering a reliable and trustworthy service, with a perfect balance between cost and quality.
We are ideally located for motorists in the Dublin 6, Terenure, Rathmines and Rathgar areas, where we have been trading for over 10 years.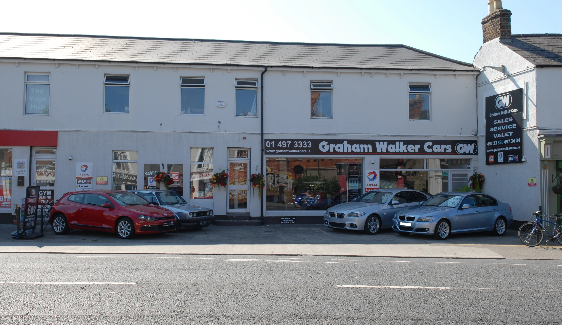 Customer reviews
Anthony S says
Sutton, Dublin 13
I recently purchased an M BMW from Graham. I would not normally write a review based on customer experience but, in this case, the quality of after sales customer service in particular warrants this note. Graham is a genuine and enthusiastic dealer, and the experience pre-sale was honest and forthright, without being pushy. A few days after my purchase, I experienced an issue with the car (which turned out to be completely my fault) on a Friday evening, and Graham, along with two of his technicians, dropped their Friday night plans and immediately came over to resolve the issue. Graham was there until 1030pm, and again first thing Saturday morning, and saw to it that the problem was resolved and fully diagnosed. I can honestly say that this type of customer service would not be provided by any other dealer (including main dealers) anywhere in the country. Kudos to Graham!
Leandro Rowies says
Dublin
This is my top car service/agency business in Ireland and I could not reccommend it more. It was my first time dealing with an agency and looking for finance to cover part of the value of the car, so I was a little bit concerned and nervous about it, but Graham made everything so easy to follow and understand that i'm still impressed how smooth and straightforward everything was. His professionalism, attention to details, honesty and good advices were impecable. He'd make sure you get the answers to all your questions and will speak from the vaste experience he has. So far this is my best experience buying a car, hands down. I had this dreamed car in my heads for years and now thanks to Graham it became a reality so I'm truly thrilled. Business aside, he really cares about you as a customer and will make sure you get always the best, before, during and after the operation.
Grace Power says
Harolds Cross Dublin 6w
Graham and his team could not be more efficient, reliable and trustworthy. I always have such a professional service with Graham and he does everything possible to ensure a problem is solved in as little time as possible. Graham is beyond helpful with any enquiries I have and explains things in a simple and honest fashion. Highly reccomend this service!
Peter A says
Dublin
Graham purchased my car, it was a very quick and easy process. He was a gent to deal with and I would highly recommend him. Hope to do business again in the future.
Paul Brennan says
Co. Meath
Graham is a gentleman, really knows and cares about cars. Amazing and honest to deal with. If you are looking for something high spec I seriously recommend Graham Walker. 5 stars!
pay us a visit
opening hours
Wednesday:

08:15 to 17:15
Out of hours by arrangement